En Garde January camp announcement
Tentative 2008 rehearsal schedule!
The first camp for En Garde will be held next weekend January 5-6!
Location: John F. Kennedy High School, 11254 Gothic Avenue, Granada Hills, CA 91344.
How to get there: Yahoo map:
http://maps.yahoo.com/maps_result.php?q ... +hills,+ca
TIME: 9am - 5pm both days
Even though the school's address is on Gothic, the band room where we will be meeting initially is actually in the middle of the north side of the campus, off of Simonds St. (Running along the north side of the campus, top of the map). Take your favorite route to the area and drive down Simonds....look for the open gate to the parking lot near Gothic on the northwest corner of the campus (The north lot....circled in red). If that one is closed (like during Open House), go around the corner to the gate circled in blue.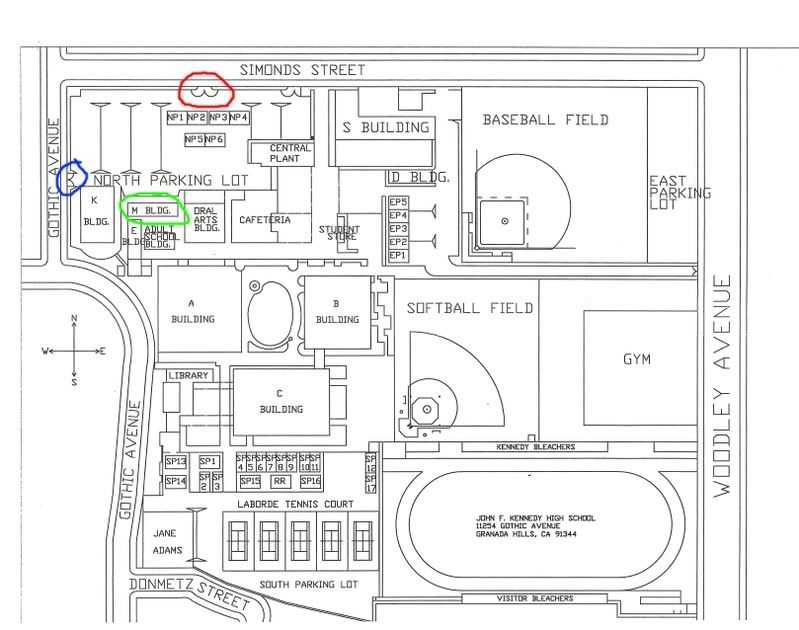 The band room is room M-100...in the M building just under the words "North Parking Lot" on the map (circled in green)....same place we held open house, for those who were there. Look for the pink signs (if the wind doesn't blow them away!)
Rain or shine, camp will go on!
What to bring: Your instruments, if you own your own (including mouthpieces, sticks and mallets, etc), a desire to learn, appropriate clothing for outdoors (sunscreen, sunglasses, hat), water or sports drink – make sure you eat breakfast!! – medications if necessary, friends who may be interested...even parents who may want to get involved!
There will be a one hour break for lunch at some point during the day...please bring either money for lunch (there are a number of fast food places in the area) or bring your own.
Reminder: En Garde's treasurer, Scott Goldstein, will be present and happy to accept your member fees. Without these fees, your corps cannot advance, so get them in early. Not sure if you want to join? Please, be our guest for your first rehearsal with En Garde. See Sam or Scott for details.
The tentative rehearsal schedule is as follows and is subject to change:
January 5-6
February 2-3
March 1-2
A POSSIBLE additional rehearsal March 29 for DCI Evaluation (still being determined)
April 12-13
April 26-27
May 10-11
May 24-25 (may be changed due to this being Memorial Day weekend)
May 31-June 1
June 7-8
June 14-15
June 21-22
June 28 (WALNUT SHOW)
June 29 (RIVERSIDE SHOW)
July 4 (HUNTINGTON BEACH PARADE)
July 5
July 6 (CALABASAS SHOW)
July 12 (LONG BEACH SHOW)
and July 13 (SHOW SITE UNDETERMINED AT THIS TIME).
See you there!